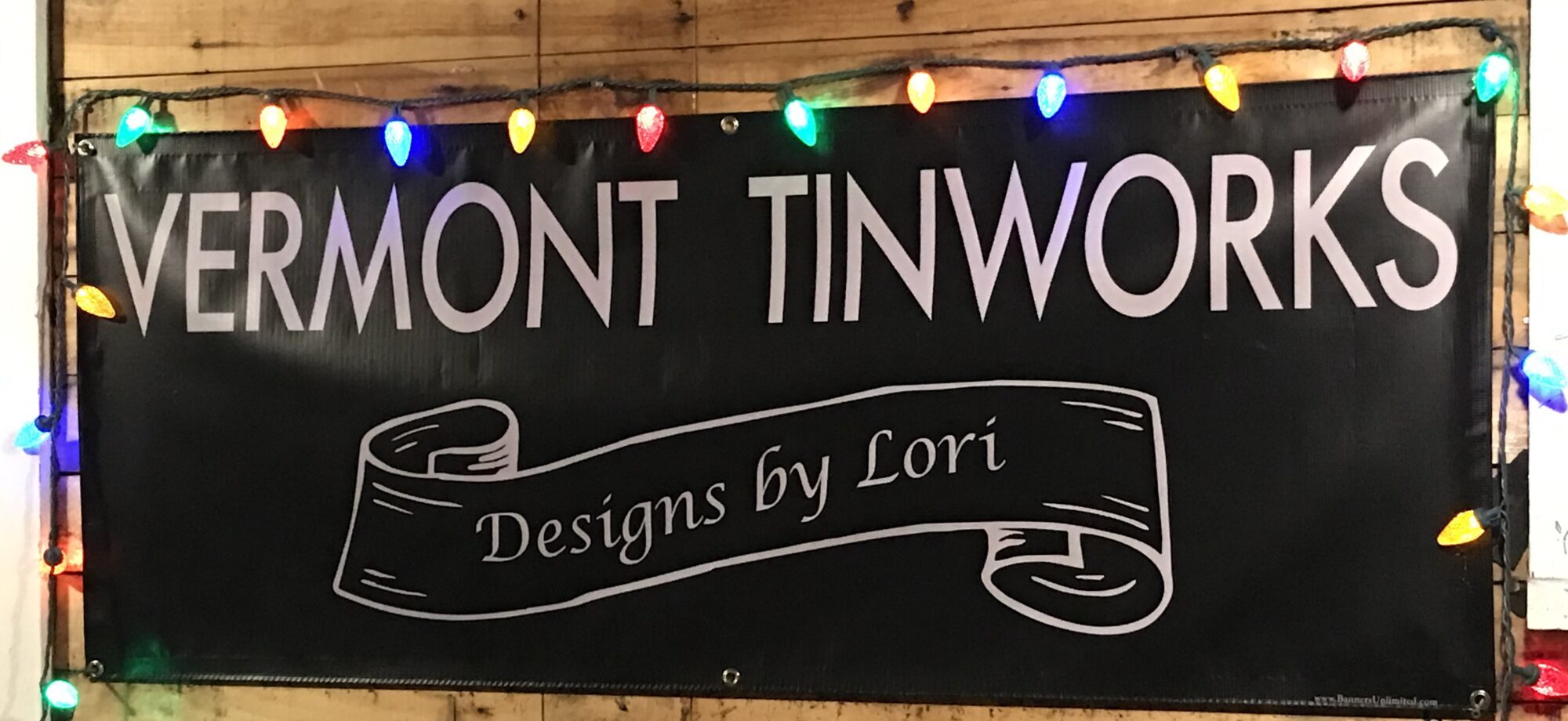 Vermont Tinworks is a nostalgic reminder of a past era. Our goal is to preserve an old tradition of tinsmithing! Vermont Tinworks originated from The Tinman & Daughter here in VT, mostly making Early American tinware.  After creating Vermont Tinworks in 2010, I needed to branch out and update the tinware with new artistic designs.
All of the tinware displayed here is handcrafted in the same meticulous manner, using only the hand tools of the bygone tinsmith. There are not many tinsmith today and I want to keep the old tradition alive.
Initially, original patterns are drawn on paper,cut out, then scribed onto tinplate. The tinplate is hand cut, then pieces are set aside for punching, bending and soldering. Most of the bending is done by hammering into shape around steel stakes, using a hickory mallet, exactly as the Colonial Tinsmith fabricated in his shop of yesteryear.
I am continuing this old tradition to perpetuate these unique and original designs. I hope that my products will be a nostalgic reminder of a past era, days long ago when a handcrafted article was the product of an individual, formed with care by the hands of a craftsman.


I started tinsmithing in my early twenties, learning from my father, who was self taught and tinkering on the side. I have been tinsmithing off and on through the years which led me to create Vermont Tinworks in 2010. Then I became a Vermont Hand Crafter in 2011.
Tinsmithing is a unique craft that is not seen anymore!  What fascinates me about tinsmithing is using the hand tools of the bygone tinsmith reproducing artistic works of the tinner's trade.
I enjoy crafting, being creative and living in Vermont with my husband!  My other interest include enjoying my greenhouse and spending time with my friends and family.